Extreme Art: Underwater Sculptures of Jeff Bell at the Delaware Natural History Museum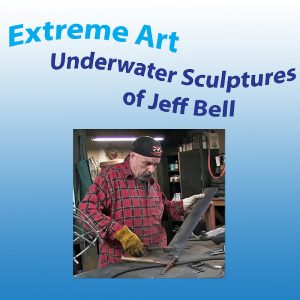 Jeff Bell has been fascinated with metal work for most of life. What started as a career in automotive repair takes form with creativity expressed in nature-inspired sculpture.  Jeff develops works in his Kennett Square studio where he fashions railings and creates unique objects d' art.  He incorporates of stainless steel, aluminum, copper, brass, iron and wrought iron.  With these brings textural feels to his masterpieces.  He incorporates past and present seamlessly into his art.   He combines different metals to create truly one-of-a-kind objects from found items, such as boiler plate covers and cable wire and more.  Now the underwater sculptures of Jeff Bell come to the Delaware Museum  of Natural History.
The presentation of Jeff's artwork is in conjunction with the Museum's summer exhibit, Extreme Deep: Mission to the Abyss.  This special showing explores the mysteries of the deep sea.
Jeff's artwork is available for purchase.  A portion of proceeds benefit the Delaware Museum of Natural History.
View museum post at: http://www.delmnh.org/portfolio-items/extreme-art-underwater-sculptures-jeff-bell/ »
See post for more information: http://expressionsinmetal.net/jeff-bell-wildlife-inspired-sculpture/